IPL Photo Facial Treatment Specialist in Midland TX
If you are looking to rejuvenate your skin, remove any unwanted pigmentation sunspots, remove unwanted hair, or help your acne, then IPL photo facial is for you. Contact us today at The Glamour House to learn more or schedule an appointment online. We are conveniently located at 2002 N Midland Dr Midland TX 79707.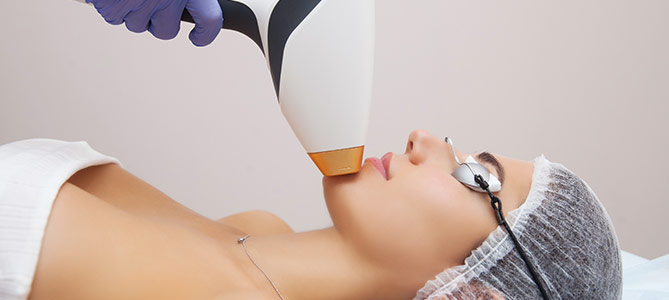 Table of Contents:
What is an IPL photofacial?
How long do IPL photofacial results take?
How many IPL treatments does it take to see results?
What are the benefits of IPL?
What is an IPL photofacial?


IPL photo facial stands for intense pulsed light therapy. This therapy helps to improve the color and texture of the skin without the need for surgery. Many times, it can undo visible damage which is caused by sun exposure, or artificial sun exposure, often known as photoaging. Many of our patients begin to notice this mostly on their neck, face, chest, and hands.

IPL photo facials have also been documented to have helped patients with red, brown, and splotchy skin due to health conditions. While this may not happen for every patient, it is a fantastic benefit.

IPL photo facials use light energy to target certain colors within your skin. Your skin becomes heated, while the body starts to rid any unwanted cells, and anything else being treated. IPL photo facial sends out multiple wavelengths of pulsating light which treats multiple skin conditions at the same time.

How long do IPL photo facial results take?


IPL photo facials offer minimal to no downtime after a treatment. Any downtime involved with an IPL photo facial usually includes redness or blushing for a few hours after your treatment has commenced. If you have pigmented spots on the treated area, they may become darker immediately after treatment, this is due to the pigment rising to the surface; however, the pigment will then start to look like coffee grounds on your skin and slowly will begin to flake off over a 2-to-3-week timeframe.

Other mild downtime experiences may include mild itching and swelling after the treatment, this is why it's so important to not rub, scratch, or exfoliate the treated area of the skin while it is healing, as this could cause scarring to occur.

It is advised and highly recommended you wear high SPF sunscreen after your treatment daily, this is to help protect the skin after the treatment. On average, our patients begin to see their skin go back to normal around 2 to 7 days after the treatment.

Many patients begin to see a significant difference in any hyperpigmented spots, skin texture, and vascular lesions within 1 to 2 weeks after their IPL treatment. After we recommend 2 to 4 treatments; however, this will depend on the skin conditions that are being treated.

How many IPL treatments does it take to see results?


Often, we highly suggest each patient does 2 to 4 treatments of IPL photo facials to see the results they want. IPL photo facials are used to fix existing issues; they cannot help prevent new ones from occurring in the future.

How long your results last will depend on a multitude of factors; however, most of this can be controlled by the patient with the recommended skincare products that were talked about during their consultation. This includes wearing daily high SPF sunscreen, and a healthier lifestyle.

Many of our clients will require an IPL photofacial Touch up/ maintenance treatment every 1 to 4 years, this will greatly depend on how well the patient has cared for the skin after their initial treatments.

What are the benefits of IPL?


IPL photofacial provides many fantastic benefits, some of which include:

• Treating sun-damaged skin
• Treat stubborn acne
• Helps to eliminate visible veins and capillaries
• Prevents premature aging skin
• Can be performed on many areas of the body
• Can be combined with other non-surgical treatments
• Provides deep rejuvenation with little downtime
• Quick and convenient
• Affordable
• Remove any unwanted hair

Many patients come to us wanting to get rid of significant facial issues, and radiant, youthful-looking skin. We often recommend our IPL photofacial treatment as it provides no discomfort, little downtime, and is affordable. IPL photofacial is great for people of any age that want to achieve better skin tone, and texture while giving life back to your skin. Contact us today to book your appointment. We serve clients from Midland TX, Greenwood TX, Gardendale TX, Odessa TX, Midkiff TX, Pleasant Farms TX, Stanton TX and BEYOND!