Microneedling Treatment Specialist in Midland TX
Microneedling treatment is a method that is becoming more commonly used to help stimulate the skin to bring elasticity back and provide much younger-looking skin. Contact us today at The Glamour House for more information or schedule an appointment online. We are conveniently located at 2002 N Midland Dr. Midland TX 79707.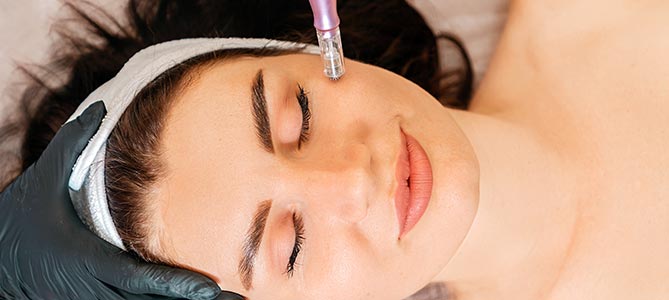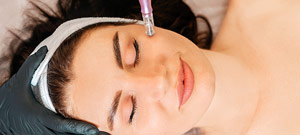 Table of Contents:
What is microneedling?
What are the benefits of microneedling?
What does microneedling do for your face?
What happens when you get microneedling?
Microneedling is a cosmetic procedure used to intensify the skin and stimulate skin elasticity. It can also be used to incite hair growth. Microneedling has risen in popularity due to its fantastic results and marginal downtime. If your skin has lost some of its natural suppleness, a microneedling treatment can help restore it to its young-looking state.
What is microneedling?


Microneedling also termed percutaneous collagen induction therapy, is a technique that uses a profusion of very small needles to penetrate the first layer of skin and is implemented using a handheld, electrically powered pen-shaped device. These microneedles work by aiding to stimulate the skin to naturally repair itself through a progression called dermal remodeling. This method encourages the skin to produce new collagen and elastin. As we age, collagen levels in our skin decline and new collagen can be created when the skin is in repair mode, thus reducing the appearance of wrinkles and fine lines and improving overall skin texture.

What are the benefits of microneedling?


There are overwhelming benefits of microneedling. Some of them are:

• It reduces the appearance of lines and wrinkles; many stressors cause premature aging. However, when these microneedles "injure" our skin, our incredible bodies go into repair mode and create collagen which our aging bodies need.

• It treats acne scars and other scarring; although scars are usually permanent, it does reduce the appearance of scars.

• It reduces hyperpigmentation and sunspots; it works great at smoothing out discolored skin.

• It shrinks large pores; when the collagen around your pores is stimulated, it contracts the pores.

• It has fewer side effects than other skin treatments; there really isn't any downtime and your skin should be healed 24-72 hours after the treatment.

• It fights stretch marks; microneedling just isn't for the face. You can have treatments pretty much anywhere on the body. It not only reduces the stretch marks but also tightens your skin.

What does microneedling do for your face?


Microneedling does numerous things for your face. Since it's a generally safe and effective procedure, it is a popular treatment that can improve the appearance of your skin. It rejuvenates and tightens loose or aging skin, reduces wrinkles, diminishes scarring, and smooths and brightens your skin.

You will see a difference in your face once it has healed from the microneedles; however, it can take up to four weeks to see the full results as your body naturally needs time to heal. Your skin should look younger and healthier at this point.

For more desired results, it is recommended that you get microneedling treatment every 4 – 6 weeks.

What happens when you get microneedling?


When you get a microneedling treatment, it increases the production of collagen. When the microneedles pierce the skin, it causes the skin to want to naturally heal itself thus creating collagen and elastin.

Collagen declines with age so this is a generally non-invasive treatment that kickstarts collagen production naturally. 

The treatment will take between 10 and 20 minutes, dependent on the size of the area being treated. If you are receiving topical numbing cream, you will have to factor in more time for your appointment. It is recommended to have several sessions, approximately 4 – 6 weeks apart as the needles will be inserted deeper into the skin at each subsequent session since the skin will become thicker and more able to endure a deeper permeation over time.

It is important to discuss the procedure with your microneedling specialist and any possible side effects. Your healthcare provider will discuss how many sessions are needed to get your desired outcome.

For more information on microneedling and how it can benefit you, call or make an appointment today with the kind and compassionate professionals at The Glamour House. We serve clients from Midland TX, Greenwood TX, Gardendale TX, Odessa TX, Midkiff TX, Pleasant Farms TX, Stanton TX and BEYOND!