Benefits of Chemical Peels in Midland, Texas
Do you want to lessen the appearance of wrinkles? Medical-grade chemical peels provide a multitude of benefits to our clients, if you want to take care of your skin and see a major difference, schedule a chemical peel today! Visit The Glamour House today to get specialized and comprehensive med spa treatments. For more information,

contact us

today or book an

appointment online

. We are conveniently located at

2002 N Midland Dr. Midland TX 79707

.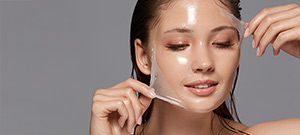 Table of Contents:
What are the benefits of chemical peels?
Is it worth getting a chemical peel?
What does a chemical peel really do?
Can you see results after 1 peel?
What are the benefits of chemical peels?


Chemical peels are becoming a widely known and quite popular treatment as well as an excellent solution to help treat a wide range of skin concerns including acne, wrinkles, and hyperpigmentation. Many who are looking for a clearer, brighter, and more youthful appearance will schedule a chemical peel as the answer they have been looking for. A few of the many benefits that a chemical peel offers include:

• Helps to reduce fine lines

Chemical peels help to reduce the appearance of wrinkles and fine lines by removing the outer layer of dead skin cells and revealing a much smoother and healthier appearance. Depending on the goals you have for your skin, we will choose between one of three chemical peel levels: light, medium, or deep.

• Corrects any sun damage

One of the biggest reasons so many look older than they are is due to premature aging caused by exposure to damaging UV rays. This is why chemical peels are another fantastic option for your next cosmetic procedure, as they help to repair and reverse the skin of sun damage to your neck, hands, and face. While it will never take away from what sunscreen can do to help with our skin on a daily basis, it will help in combination with wearing sunscreen daily.

• Improves acne-ridden skin

Light chemical peels will exfoliate the skin when using an alpha or beta hydroxy acid. If completed in a series of treatments, the peels will improve a mild to moderate case of acne, and allow you to see the clear complexion results you were seeking.

• Improves the appearance of scars

Moderate chemical peels will help to treat surface acne, as well as the light scarring that can occur due to acne. Chemical peels will improve the appearance of the skin from significant scars, while a deeper or alternative peel treatment may also be required in combination with a chemical peel. Our specialists will help determine this with you at our consultation.

• Addresses pigment issues

Your skin treatment during a chemical peel will help correct pigmentation issues including melasma, age spots, and hyperpigmentation. It can also be quite effective for pigmentation on the hands, neck, chest, and face.

• More beautiful skin texture and tone

We all know now that chemical peels can address many different skin concerns, but they can also stimulate the growth of new and fresh skin. Chemical peels work to improve your overall appearance as well as the texture of the skin providing you with a beautiful glow.

• Maximize the potential of your skin

Chemical peels will allow you to maximize the potential of your skin by removing the dead top layer of skin cells, which will allow the aftercare products to be absorbed much deeper into the skin to provide the maximum effect.
Is it worth getting a chemical peels?


If you have sensitive skin or have skin conditions, including eczema, chemical peels may not be the correct skin treatment for you. During our consultation, we can go over what type of skin treatment would be best for you considering your skin condition, your sensitivity level, and so much more.

However, is a chemical peel worth it? Absolutely! Chemical peels provide some incredible benefits that many are unable to copy at home, and the benefits can last quite a while after the treatment. As well, chemical peels are quite versatile, they aren't just a one-and-done type deal, they can work for many skin conditions including discoloration, acne scars, hyperpigmentation, sun damage, melisma, fine lines, wrinkles, and other signs of aging.
What does a chemical peel really do?


A chemical peel is a non-invasive resurfacing treatment (basically an exfoliating treatment without the damaging scrubs that are found in over-the-counter products) that causes controlled superficial wounds to the upper level of the skin.
Can you see results after 1 peel? 


Absolutely you can! Many will schedule 1 chemical peel and notice an immediate significant improvement in the appearance of their skin from tone to texture and will continue to schedule appointments based on the recommendations their specialist has provided. For more information, call us today or book an appointment online. We serve clients from Midland TX, Greenwood TX, Gardendale TX, Odessa TX, Midkiff TX, Pleasant Farms TX, Stanton TX and BEYOND!